2019 City of Calgary Mayor's Urban Design Award
Updated: October 25, 2019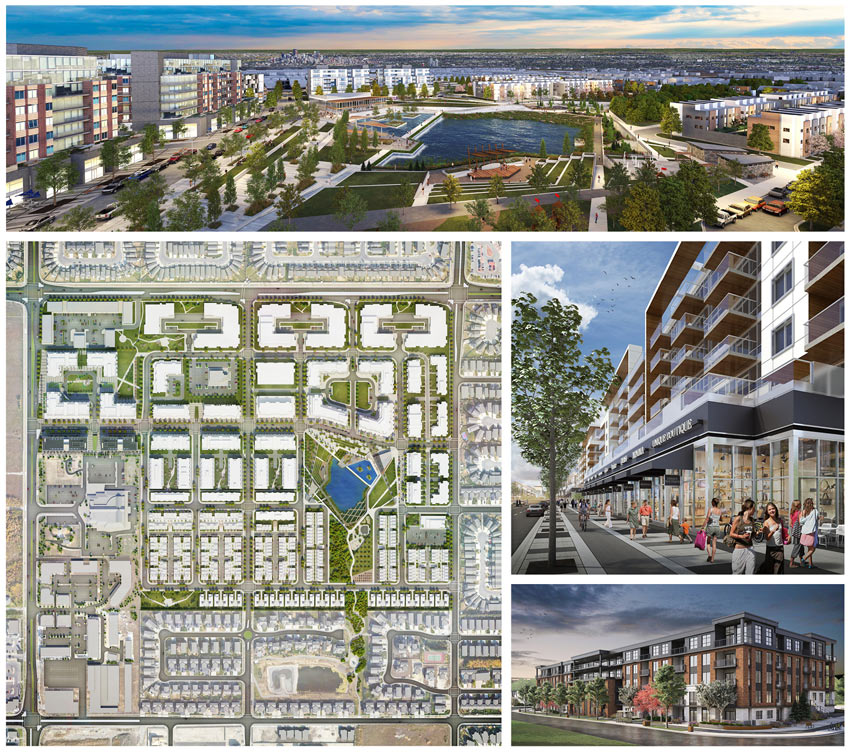 City Edge Development Award
The West District Plan Area is located in the community of West Springs near the City's westerly boundary. Development in the area was largely completed in the 2000's, carried out on an ad-hoc basis with development decisions being made in isolation from considerations of the long-term community landscape.This had led to a heavily fragmented urban form characterized almost exclusively by low-intensity cul-de-sac subdivisions and auto-oriented 'big-box' commercial uses. The West District Master Plan, totalling over 95 acres at the very centre of the community, seizes a unique city-building opportunity as one of the last large contiguous pockets yet to be built-out. A case study in transformative neighbourhood planning, the Master Plan promotes the concepts of Smart Growth and sets out a clear, inspired, and achievable course of action to create a new Activity Centre:a higher-intensity, mixed-use, compact and transit-supportive node that will support long-term population and employment growth in the community.
Embracing Smart Growth
Existing development in the area was built out to densities too low for the provision of efficient transit service and far below the current Municipal Development Plan (MDP) targets. Addressing this challenge, West District consciously trades sprawl for urbanism and as a whole is anticipated to add ±2,500 new dwelling units, ±4,600 new residents, and ±3,600 new jobs. By sensitively intensifying the overall number of people and jobs in the region, The Plan directs growth in a way that fosters more compact and efficient use of land, creates a complete community, and allows for greater mobility choices to sustain neighbourhood vitality.
At the Master Plan level, West District applies the following design principles:
Compact Mixed-use Design:West District introduces residential, retail, and employment generating uses, reducing the distance people need to travel and helping cultivate a more walkable community.
A Range of Housing Opportunities: The existing Plan Area context is almost exclusively single-detached housing. To diversify, the needs of future residents will be met by a complementary range of low to mid-rise multi-family and mixed-use built forms for all stages of life without compromising the community's commitment to human scale development.
Walkable Destinations: The Plan reintroduces the traditional grid-based neighbourhood fabric and puts the entire future population within a five-minute walk of retail, transit, and employment destinations. The gridded network is organized around a 7 block-long main street, Broadcast Avenue—the physical centre and symbolic heart of West District—with a range of uses to generate activity, encourage daily social interactions, and improve overall community life.
A Quality Public Realm: Enhanced surfacing, lighting, furniture, and planting play an integral role in reinforcing the quality of the West District's public realm. Radio Park, the central open space and community living-room, supports over eight acres of exceptional public park design with multi-layered programming to create a dynamic year-round meeting place.
A Variety of Transportation Choices:The plan provides expanded mobility choice through the integration of walkable destinations, improved connections, and cycling and pedestrian prioritized streets. Following the connective grid network planning model, transit service will be further bolstered with the introduction of a transit centre located in the heart of the neighbourhood that ties into the regional network.