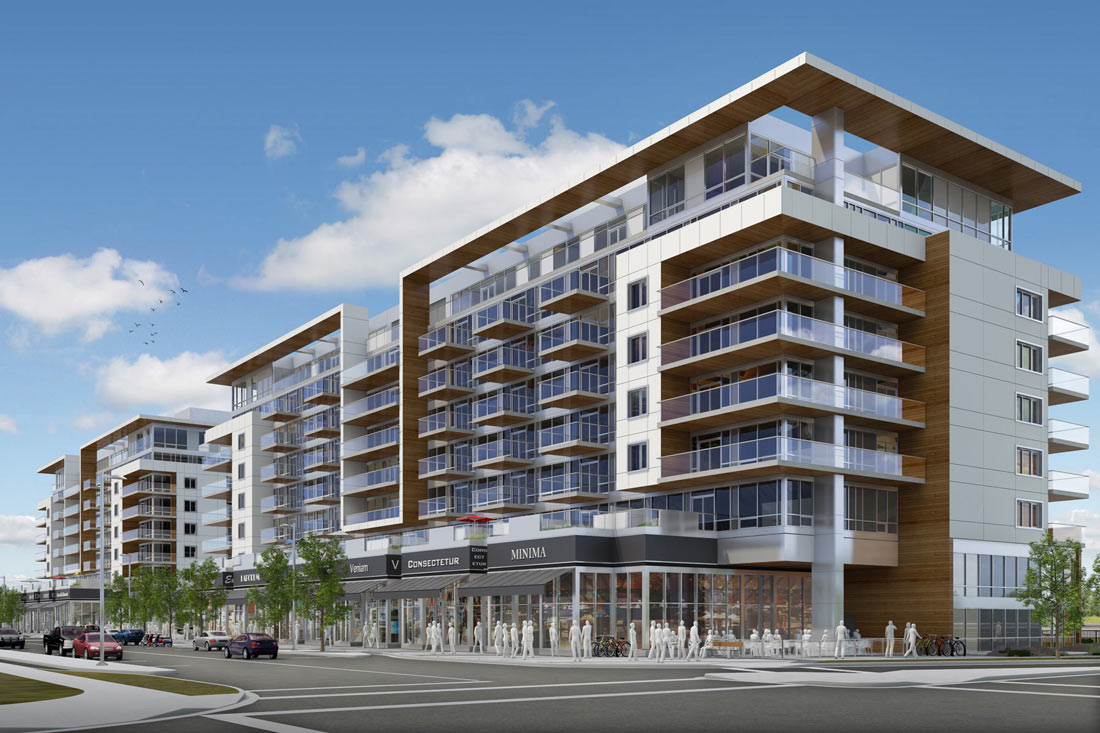 I think it's safe to say Calgary's west hill has seen nothing like this.
West District, long a vision of George Trutina, founder of Truman that includes Truman Development Corporation, is now under development.
A master-planned mixed use community of residences, office and retail space, public spaces, and natural areas, West District will be spread across nearly 80 acres of land on the south side of Old Banff Coach Road east of 85th Street and west of 77th Street S.W.
The new community will offer several multi-family options and the first to come out of the ground is the twin-tower project called Gateway.
"Gateway is the start of West District," says George Trutina. "There will be 122 residences in the west building and another 94 in the east building all above over 20,000 square-feet of street-level pedestrian friendly retail."
The mixed-use (residential and retail) style of the Gateway, which is expected to be complete sometime in late 2019, will carry on along the whole of the High Street element that will be a focal point of West District, because of the residential-over-retail design.
Looking some 15 years down the road, West District is projected to have an estimated 2,700 homes — the vast majority in mid-rise concrete buildings, more than one million square-feet of office space, and just under 400,000 square-feet of retail, according to company figures.
Like I say, there's nothing even close to this on the west hill.
"We have seen a lot of interest from people in the surrounding communities like West Springs and Cougar Ridge, where residents might be considering a move, but want to stay in the area," says Trutina.
In addition to the upscale, trendy homes being offered, West District will have an eight-acre central park that is a year round public space and will include a wetland habitat, boardwalk, 500 seat amphitheatre, playground, and other passive and active people areas.
Gateway offers three upscale defined residential product types with 36 floor plans.
The Residences will measure from 691 to 1,829 square feet with between one and three bedrooms — with three-bed/three-bath penthouses starting from 299,000.
The Brownstones come in two- and three-bedroom styles and measure from 1,865 to 2,547 square-feet. They are priced from $720,400.
The Skytowns are split-level condos sized from 2,314 to 2,725 square-feet with three bedrooms and are priced from $913,800.
"With this number of residences and floor plan options available, we are catering to all demographics," says Trutina. "But what we are offering in the Gateway buildings will be particularly attractive to downsizers, or should I say right-sizers. Our floor plans are some of the largest offerings in the city paired with high end finished such as hard surface chevron floors, custom lighting, cabinetry and countertops made specifically for the Gateway project."
So, besides the uniqueness of West District, what is its appeal?
"I think it's the pedestrian orientation of the community — its walkability, community and village HIgh Street concept, and the fact it is the last master-planned community in the city that is inside Stoney Trail," he adds.
And then, of course, there is the ease of access.
The highway to the mountains is just minutes away, a getting to the downtown core is made easier because of the connections to public transit.
"Then, there is the ease of getting around West District itself. because it has been so thoughtfully designed to maximize mobility with pedestrian-friendly streets and pathways connecting people with their destinations," says Trutina.
For more information on West District, visit www.hellowestdistrict.com.