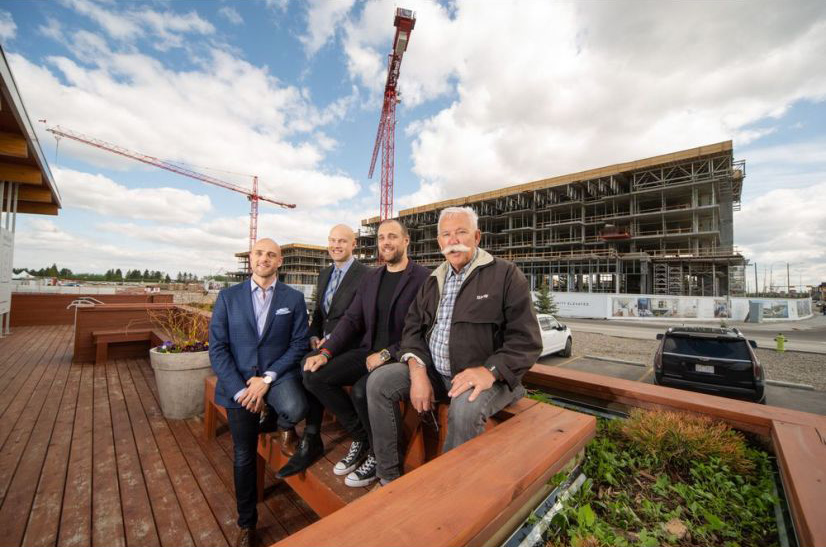 An innovative mixed-use development headed for a scenic end of the west Calgary landscape is poised to be a must-see for residents and visitors alike, says the company behind it.
"When people come to Calgary, we want it to be 'we need to go to West District and see central park,' " says Oliver Trutina, vice-president of Truman. "We want it to be one of those places — a destination."
A celebration to formally launch the West District community by Truman will be on June 9 and run from noon to 5 p.m. Its first residential development, called Gateway, is under construction. It's comprised of condos, split-level condos branded Skytowns, and brownstones. Prices start at $299,000. Its highest price point — which has already seen sales — is $1.7 million.
West District is a 34-hectare (84-acre) master-planned infill community on land within the existing West Springs area, accessed off Old Coach Banff Road, west of 85th Street S.W.
It will build out to about 2,500 homes in a variety of built forms, including predominantly mixed-use mid-rise concrete buildings ranging from four to eight storeys, with a commercial component at the base, as well as a handful of single-family homes. Overall, prices will range from $299,000 to $3 million.
The sight lines from this community impress, says Oliver Trutina. From Gateway's third floor, looking west, there are unobstructed views of the Rocky Mountains, to the north and south, clear views across both valleys, and to the east, an unobstructed look at the downtown core, he adds.
West District will boast more than 250,00 square feet of retail space, more than 820,000 square feet of office space, and when complete, an estimated 3,500 people will be employed in the community, says Truman.
One of West District's prime attractions will be the aforementioned $15 million central park — an amenity the developer has dubbed the Urban Living Room — planned around a central lake that provides stormwater storage for West District.
This prized 3.4-hectare (8.4-acre) park, for which Truman collaborated with HDR Architects, is designed to be the "heart of the development's urban centre," says Tony Trutina, Truman's chief operating officer.
It's planned to feature an amphitheatre, community garden, playground, skate park, restaurant overlooking the lake, wetland boardwalk, winter ice rink, spray park, decorative fountain, and multi-functional plazas and lawns.
The park is forward-thinking and multi-functional, integrating people spaces with stormwater management and natural landscape, Tony Trutina says.
To elevate the design and resiliency of West District Central Park, HDR's landscape architects and water-resource engineers drew upon success with related projects, including Historic Fourth Ward Park and Cook Sr. Park, both in Atlanta, Georgia, says Truman.
The result is what the company is calling a "seamlessly integrated park and stormwater-management facility that provides a unique and dynamic public open space within the vibrant West District urban development."
Overall, West District is designed for activity. This includes the pedestrian-friendly approach to its main street, where sidewalks are planned to reach 3.25 metres wide, which more than doubles the average size commonly seen in suburban areas.
A bike lane will be present to prevent cyclists riding on sidewalks, as well.
"We've engineered an experience and a lifestyle here," says Peter Trutina, Truman's vice-president, development. "Not just pipes and roads."
Tony Trutina, agrees, adding that when he walks his child down the street, "I want to be able to go get an ice cream, I want to be able to buy her a dress, I want to hang out at the park and have a live band playing in the amphitheatre. I want to do that here."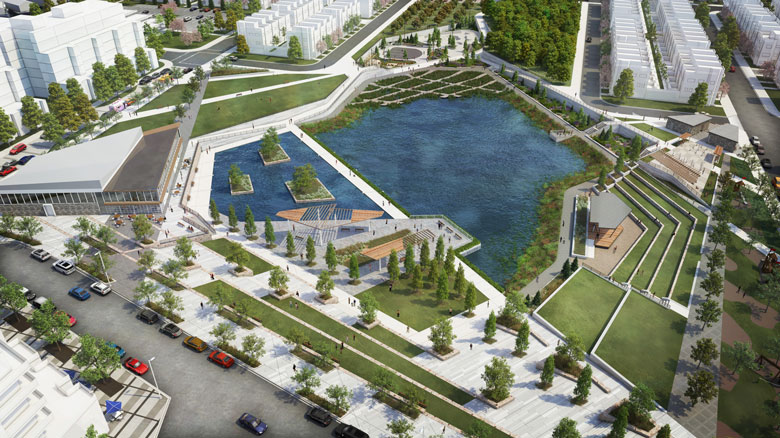 But before West District took its next step, Truman embarked on an intricate process to make sure its plan was in-line with what residents in neighbouring areas wanted to see.
The developer built a centre on the future West District land called EngageHub, which was a place for the public to review proposals for various aspects of the neighbourhood, ask questions and offer feedback. This 2,000-square-foot, $1 million building — now used as a presentation centre for the community — was an uncommon approach.
"We want to be a good neighbour," says George Trutina, CEO and founder of Truman. "We worked with our neighbours and it shows."
"This is the first instance that I have personally seen of an applicant actually constructing an engagement centre where neighbours and people who are just curious about the project actually have a purpose-built building to go to," says Dino Civitarese, senior planner with the city.
"It allowed Truman to start having conversations with neighbours in advance of any of them making the application," he adds. "Conversations are always good. The city also did its own engagement when the application came in, and the combination of that, I think, gave the neighbourhood the information they needed to make their assessment on the proposal."
While a substantial undertaking, Tony Trutina, says of the public engagement process, "You want to make sure that what you're doing is something people want to see, want to live in, and want to call home."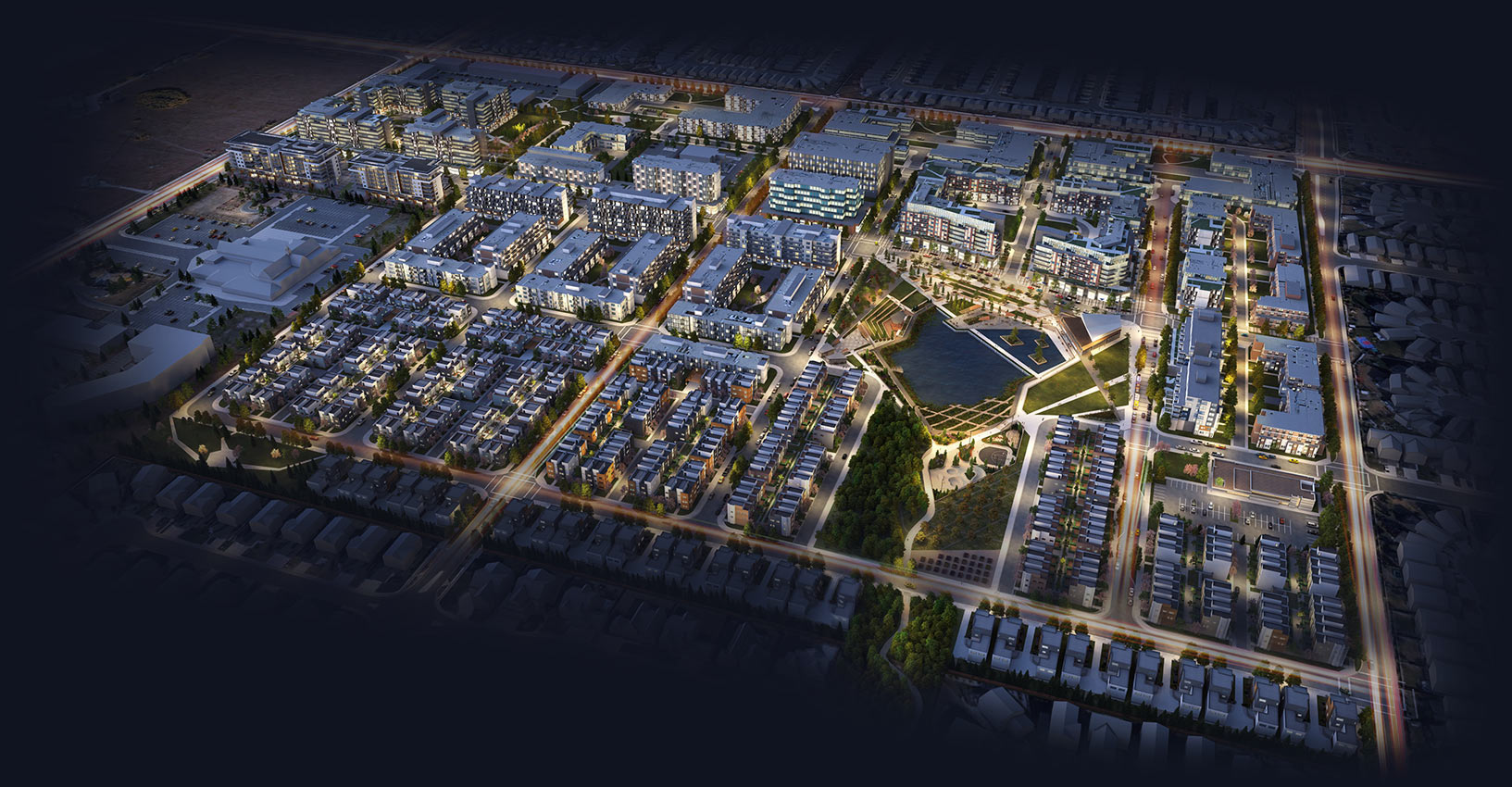 Density was one of the changes from Truman's original proposal, with 35 per cent fewer dwellings, 36 per cent less office space, 34 per cent less retail space, and a downtick in units per acre of 36 per cent.
The future property tax revenue forecast — which is to accrue to the City of Calgary over 50 years — is about $345 million, according to a report from Truman. With the changes requested, this figure dipped 35 per cent from the original plan. At the council public hearing, the West District plan received unanimous approval.
George Trutina says he's pleased with the support the development has had from the city, adding "they worked with us."
"We listened to what they wanted, they worked with us, they helped us, administration has been unbelievable with us," Peter Trutina adds.
The elements are there, says Civitarese.
"The defining characteristic about West District was that it brought a complete community, which is what the city is looking for," he adds "Complete communities also include all of the services and amenities that you would need in a community. If you need to go to the dentist, you can go to the dentist in your community because all of those services have been provided for in your community.
"It's brought everything that we want to see in our communities with it, which is why we supported it," he adds.